ECDL Extreme World Championship
Details
Current
champion(s)
Daredevil
Date won
March 27, 2011
Promotion
Extreme Championship Dynasty League
Date retired
January 31, 2012

Statistics
First champion(s)
Daredevil
Longest reign
Daredevil (10 months, 4 days)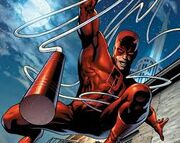 The ECDL Extreme World Championship was the secondary main title in the ECDL. It was the primary championship of the ECDL Lethal brand.

The title was first awarded on March 27, 2011 when Daredevil defeated Thor in the finals of the ECDL Extreme World Championship Tournament. The title has been retired due to ECDL's end from the E-Fed World.
Current champion
[
]
The current champion is Daredevil who won the title at Beaten Bloody by defeating Thor in an Extreme Rules Match.
History
[
]
Title Reigns by Length (as 1/31/2012)
[
]
Daredevil (1) - 10 months, 4 days