Jason Russo is an e-Fed wrestler created by Jace1, currently signed to FZW, WWE-X, EWA, and GWA.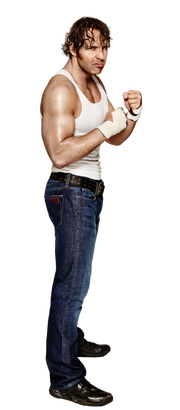 E-Fed Wrestling Alliance (2015 - Present)
Debut and Early Storylines
Jason Russo made his debut for EWA during Round 1 of the 2nd EWA Tournament as Samuel Shaw's surprise opponent. Russo scored the victory and would move on to the Quarter-Finals. In the Quarter-Finals of the EWA Tournament, Jason faced off against Walter Scott, where he was once again victorious.
He made his Shockwave debut on Episode #18 in the main event against AJ Styles in the 2nd Semi-Final of the EWA Tournament, where he was successful. He faced "The Destroyer" Bobby Lashley in the finals of the EWA Tournament at Slammiversary, but was unsuccessful after interference from Kyjack Necro.
After the match Russo revealed that Paul Heyman was the man behind the mysterious voice that cause the random acts of violence from Kyjack.
GWA (Gemini Wrestling Association) 2015-
Jace made his debut on GWA Thunder 26 confronting 005 as a replacement for Chase Young. That ended up turning upside down as Jace and Chase Young ended up fighting 005 in a Triple Threat TLC match at GWA Rumble In The Ring II. Jace ended up getting pinned by 005 after a JKO off the ladder. GWA Thunder 30 saw Jace getting attacked by Dan Phantom for failing in his mission and sending John Cena after him to finish the job at GWA Wrestlepalooza II. Jace was able to defeat John Cena in a "I Quit" match after he KO'd Cena with the JKO on a Barbed Wire 2x4. Jace officially signed to a GWA contract on Thunder 36. Jace would chill for a while till he was added to the GWA Hardcore Championship Scramble Match at GWA Bloodbath II. Jace ended up winning the Hardcore Title. Jace would then successfully defend his GWA Hardcore Title over the likes of Rick Taylor, Luigi and Jason Voorhees while raking up big wins against Yujiro Kushida at the GWA vs NJPW special and Tyler Breeze at the GWA vs NXT special before losing the GWA Hardcore Title to Django at GWA Virtual Insanity III. Jace after the match was attacked by BAMF and Tyler Breeze but he turned away their attack laying out Murphy with a selfie stick, Blake with the Reverse GTS into the Boma Ye, Tyler Breeze with Anarchy Reigns and Alexa with a Rainmaker Lariat. It was clear that Jason Russo had arrived and GWA Hell on Earth III was where he showcased himself. He put up a great fight against Django but was screwed over by the debuting Kyjack Necro.
In Wrestling
Finishing Moves
EWA
Anarchy Reigns (Spear)
Broken Dreams (Bloody Sunday)
GWA
Anarchy Reigns (Spear)
Revolution (Boma Ye)
JKO (RKO) Used rarely now
Championships and Accomplishments
EWA
N/A
GWA
GWA Hardcore Champion (1x) ( GWA Bloodbath II - GWA Virtual Insanity III )
Entrance Themes
EWA
"You Want A Battle (Here's A War)" by Bullet For My Valentine (September 13, 2015 - )
GWA
"Personal Jesus" by Depeche Mode (GWA Thunder 26 - GWA Virtual Insanity III) (as Jace)
"One Finger and a Fist" by Drowning Pool (GWA Hell on Earth III - )
Nicknames
EWA
GWA
"The Son of Anarchy"
"The Dog of War"
"The Los Angeles Lunatic"