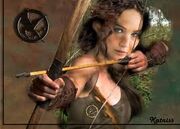 Katniss Everdeen is a member of the WCL & UEW rosters competing in the women's division.
UEW (2012 - present)
[
]
Vixens Champion (2012 - present)
[
]
Katniss made her UEW debut on the first episode of Fight Night by defeating Black Cat to qualify for the Championship Scramble at Slammiversary to crown the first Vixens Champion. Katniss didn't compete again until Slammiversary defeating Tori Black, Supergirl, Sabrina Spellman & Carly Shay in the Championship Scramble to become the first UEW Vixens Champion. She has since defeated Samus on Fight Night #3. She is scheduled to face Sabrina Spellman on Fight Night #4. The Anonymous UEW Chairman announced on Fight Night #3 that Katniss would defend the Vixens Championship at Christmas Chaos in a 20 Vixen Gauntlet for the Gold against the nine other UEW Vixens and ten surprise entrants. At the event she last eliminated WCL's Claire Redfield to remain Vixens Champion. On Fight Night #5 she suffered her first loss to Tori Black, later during the show President of the Vixens Division Mae Young revealed that on Fight Night #6 Katniss would defend against Tori in a Steel Cage Match.
WCL (2012 - present)
[
]
TBA
Finishing Moves
[
]
WCL:
[
]
Hunger Games (Wilde Ride) (2012 - Present)
UEW:
[
]
District 12 (La Mistica) (2012 - present)
Hunger Games (Reverse DDT) (2012 - present)
Entrance Music
[
]
WCL:
She's A Rebel by Green Day (2012 - present)
UEW:
Safe & Sound by Taylor Swift (2012 - present)
Championships and Accompishments
[
]
1x Starlets Champion
Longest Starlets Championship Reign (124 days)
1x Vixens Champion (First)
Longest Vixens Championship Reign (398 days)