NXT-X Xplosion (mainly known as Xplosion) was a professional wrestling e-Fed program that aired on the e-Fed ForumZone. The show debuted on July 6, 2013. 
NXT-X Xplosion

Format

E-Fed

Created By

Jamo

Starring

NXT-X Xplosion Roster

Opening Theme

"Humanomoly" by Peroxwhy?gen

No. of Seasons

2

No. of Episodes

52 (as of 11/25/14)

Related Shows

Original Run

July 2013 - November 2014
Since it's first episode NXT-X Xplosion has been posted soley on the e-Fed ForumZone.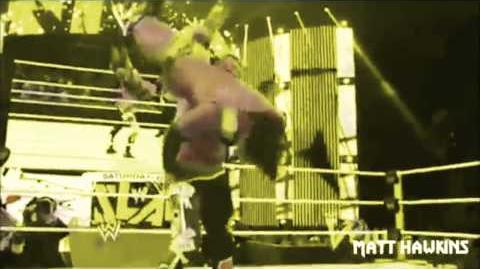 History
[
]
NXT-X (2013)

[

]
Beginning as simply NXT-X, the program aired it's first episode on July 6, 2013. It aired on the e-Fed ForumZone. NXT-X originated from Full Sail University in Orlando, Florida, and had a new show posted every week.
Scott Stanford and William Regal were the original commentators/hosts of the show. Stanford keeps his role as commentator/host but with Jonathan Coachman instead of Regal.
On the first episode it was revealed that Eric Bischoff would be the General Manager for the show, a role he still has today.
Xplosion (2013 - )

[

]

On the 24th episode of NXT-X (the first episode after the Christmas hiatus) it was revealed that the show had been given a new name. The name was revealed to be Xplosion. The name change was welcomed warmly from NXT-X fans. Xplosion would continue to air until after Season 2's One Night Only: Great American Bash where a 32-Man Single Elimination Tournament would air in Xplosion's place until the Finals. There will be two episodes of Xplosion before Season 2's Rage in the Cage event.
Championships and Accomplishments
[
]
Championships
[
]
Accomplishments
[
]
| Accomplishment | Current Winner | Event | Previous Winner |
| --- | --- | --- | --- |
| Combat Trial Match winner | Sami Zayn | Trial By Combat | N/A |
| NXT-X Tournament | Raven and Killer Ken | Xplosion #44 | N/A |
On-Air Personalities
[
]
The show features various on-air personalites including the wrestlers themselves, ring announcers, commentators and on-screen authority figures.
Wrestlers
[
]
Name
Finisher(s)

Accomplishments

Notes
Adam Rose

Party Foul

Exotic Express

1x NXT-X Hardcore Champion
Aiden English

The Artiste Splash

Director's Cut

Alex Riley
You're Dismissed!
2x NXT-X World Heavyweight Champion
Bo Dallas
Bolightenment
1x NXT-X Pan Handle Champion
Formerly known as Broderick Wyatt
Bray Wyatt
Sister Abigail
Leader of The Wyatt Family
Camacho
Running Samoan Drop
Carlito
Back Stabber
1x NXT-X Hardcore Champion
Corey Graves

Steel City Slaughter

Lucky 13

1x NXT-X Hardcore Champion
Curt Hawkins

Heat Seeking Elbow

Laugh Riot

Member of The NY Connection
David Hart Smith
Bulldog Bomb
1x NXT-X Hardcore Champion
Member of The Legacy
David Otunga

The Verdict

The Honor Roll

1x NXT-X Hardcore Champion
Desmond Wolfe

Tower of London

London's Lariat

Doc Gallows

Chokeslam

Gallows Pole

1x NXT-X World Tag Team Champion (w/ Knux) - current
Erick Rowan
Greetings From The North
1x NXT-X World Tag Team Champion (w/ Luke Harper)

Member of The Wyatt Family

First NXT-X World Tag Team Champion

Garett Bischoff
Bisch Driver
1x Impact-X Tag Team Champion (w/ Wes Brisco)
Member of The Legacy
Goldust

Shattered Dreams

Gold Rush

Goliath
House of Pain
Member of The Congregation
Jesse Neal
Military Bomb
Jessie Godderz
Party Stopper

1x NXT-X World Tag Team Champion (w/ Robbie E)

1x NXT-X Hardcore Champion

Jimmy Jacobs

Age of the Fall

Contra Code

Jinder Mahal
Punjabi Clutch
Joe Hennig
PerfectPlex

1x NXT-X Pan Handle Champion

1x ASCW World Champion

Joey Ryan
Mustache Ride
1x NXT-X Hardcore Champion
JTG
Da Shout Out
1x NXT-X Hardcore Champion
Kassius Ohno

Ohno Blade

KO

1x NXT-X Pan Handle Champion - current

1x NXT-X Hardcore Champion

Kenta

Game Over

Busakiku Knee Kick

Go 2 Sleep

Inactive; Yet To Debut
Killer Ken

Killer Kick

Slice 'N Dice

1x NXT-X Hardcore Champion
Knux
Knux Out
1x NXT-X World Tag Team Champion (w/ Doc Gallows) - current
Konnor

Fall Of Man

Stockade

1x NXT-X World Heavyweight Champion

First NXT-X World Heavyweight Champion

Member of The Congregation

Kyjack Necro
Flashbang

Member of The Congregation

Lance Hoyt

Dark Days

Texas Tower Bomb

3x NXT-X Hardcore Champion
Lewis Rivers

Spirit Bomb

Lighning Blade

1x Impact-X Xplosion Champion

3x NXT-X Hardcore Champion - current

Luke Harper
Truckstop
1x NXT-X World Tag Team Champion (w/ Erick Rowan)

Member of The Wyatt Family

First NXT-X World Tag Team Champion

Percy Watson

Percycution

Showtime Splash

Raven

Even Flow DDT

Raven Effect

3x NXT-X Hardcore Champion

1x NXT-X World Heavyweight Champion - current

First NXT-X Hardcore Champion
Robbie E

Shore Thing

Fresh To Death

1x NXT-X World Tag Team Champion (w/ Jessie Godderz)
Ryan Knight

Knight Lock

Knightmare

1x NXT-X Hardcore Champion
Sami Zayn
Helluva Kick

1x Combat Trial winner (2014)

1x NXT-X World Heavyweight Champion

Shannon Moore

Mooregasm

Halo

1x NXT-X Hardcore Champion
Simon Gotch
Gentleman's Clutch
Ted DiBiase, Jr.

Dream Street

Dream Crusher

Million Dollar Dream

The Big O

O-Zone

Obliterator

Member of The NY Connection
Titus O'Neil
Clash of the Titus
Tyler Breeze
Beauty Shot
Ultimó Dragon

Dragon Sleeper

Asai DDT

Asai Moonsault

Vacant
No Vacancy
2x NXT-X Hardcore Champion
Walter Scott

Salvation

Silver Lining

1x WWE-X Tag Team Champion (w/ Dylan Jamieson)

4x NXT-X Hardcore Champion

Leader of The Congregation

Wes Brisco
Brisco Roll
1x Impact-X Tag Team Champion (w/ Garett Bischoff)
Member of The Legacy
Zack Ryder

Rough Ryder

Zack Attack

Member of The NY Connection
Zema Ion

Submission Impossible

From Lust to Dust

1x NXT-X Pan Handle Champion

1x Impact-X X Division Champion
Authority Figures
[
]
Authority Figure
Position
Date Started
Date Finished
Notes
Edge
NXT-X Owner
July 5, 2014
Present
Eric Bischoff
Co-General Manager
September 7, 2014
Present

Served as the General Manager from July 6, 2013 - September 7, 2014

William Regal
Co- General Manager
September 7, 2014
Present

Former Xplosion Commentator

Served as Assistant to the General Manager from November 25, 2013 - September 7, 2014
Commentators
[
]
| Commentators | Dates | Notes |
| --- | --- | --- |
| Scott Standford and William Regal | July 6, 2013 - August 17, 2013 | |
| Scott Stanford and Renee Young | August 24, 2013 | William Regal was absent from the broadcast; revealed to have been kidnapped by The Wyatt Family when he returned |
| Scott Stanford and William Regal | August 31, 2013 - September 6, 2013 | Regal was fired after losing a match |
| Scott Stanford and Jonathan Coachman | September 6, 2013 - present | Coach filled in for Regal who had a match, he became the permanent replacement after Regal was fired |
| Jonathan Coachman and Ted DiBiase, Sr. | September 7, 2014 | Stanford was absent due to a family emergency |
Ring Announcers
[
]
| Ring Announcer | Dates | Notes |
| --- | --- | --- |
| Tony Chimel | July 6, 2013 - Spetember 7, 2014 | |
| Howard Finkel | April 30, 2014 | Guest Ring Announcer for the Main Event of Grand Slam |
| Michael Buffer | September, 2014 - Present | |
Theme Music
[
]
| Theme Song | Dates |
| --- | --- |
| "One Step Closer" by Linkin Park | Februrary 14, 2014-  June 2, 2014 |
| "Humanomoly" by Peroxwhy?gen | June 7, 2014 - November 25, 2014 |