Payne is an e-fed female wrestler currently signed to CWA. She was previously signed to NXT-X and WWE-X. She is the younger half-sister of Sykotik and older half-sister of Krazed (two other e-fed creations).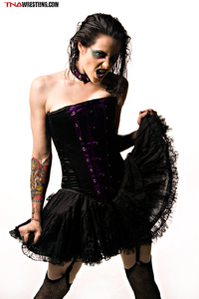 WWE-X (2013)
[
]
Mike Cross/Kymontra Era
[
]
TBD
NXT-X (2013 - 2014)
[
]
Debut, Feud with Elise Angel and Sirens Champion
[
]
TBA
Feud with Karen Jarrett and Cain Abel
[
]
TBA
Storyline with Walter Scott's Congregation and Feud with Paige
[
]
TBA
Cyber Wrestling Alliance (2020)
[
]
In May 2020, Payne was announced as one of the sixteen female superstars signed to new upstart e-Fed, CWA.
In Wrestling
[
]
Finishing Moves
[
]
WWE-X
[
]
Payne Maker (Canadian Destroyer) 2013
NXT-X
[
]
Payne Maker (Canadian Destroyer) 2013 - present
No Payne, No Gain (Cattle Mutilation) 2014 - present
CWA
[
]
Payne Maker (2020 - )
No Payne No Gain (2020 - )
Accomplishments
[
]
NXT-X
[
]
Entrance Themes
[
]
NXT-X
[
]
"Dark In My Imagination" by Of Verona (2013 - Present)
CWA
[
]
"Bring Me To Life" by Evanescence (May 2020 - )