RWA American Heavyweight Championship
Details
Current
champion(s)
Alex Mercer
Date won
November 15, 2012
Promotion
Rage Wrestling Association

Statistics
First champion(s)
Walter Scott
Most reigns
N/A
Longest reign
Bart Simpson (143 days)
Shortest reign
Max Payne (<1 day)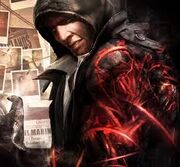 The RWA American Heavyweight Championship is a title in the Rage Wrestling Association fantasy wrestling promotion. The first champion was awarded by the RWA Owner Keith Austin and the title was awarded to Walter Scott on May 21, 2011. The current champion is Alex Mercer who defeated Reaper X on November 15, 2012 on Super Rage #64.
Title History
[
]
| | | | |
| --- | --- | --- | --- |
| Wrestler: | Time: | Date: | Notes: |
| Walter Scott | 1 | May 21, 2011 | The title was awarded to him by RWA Owner Keith Austin. |
| "Badass" Bart Simpson | 1 | June 9, 2011 | "Badass" Bart Simpson won the title in a Falls Count Anywhere match. |
| CM Punk | 1 | October 30, 2011 | |
| TGO (The Great One) | 1 | November 27, 2011 | TGO won the title in a 6-pack challenge by last eliminating CM Punk. The other participants were Bart Simpson, Brucebatman, Uruk-Hai and Broly. |
| Max Payne | 1 | November 27, 2011 | |
| Vacated | 1 | November 27, 2011 | The title became vacated due to Payne getting killed by the Joker. |
| Kurtis Stryker | 1 | December 31, 2011 | Kurtis Stryker won the vacated title by beating the Joker. |
| Vega | 1 | February 11, 2012 | |
| Guile | 1 | March 17, 2012 | Guile won the title under Street Fighter rules. |
| Spiderman | 1 | May 24, 2012 | Spiderman won the title in a CAW Icon vs Icon Match. |
| Reaper X | 1 | August 17, 2012 | Reaper X won the title in a Last Ride Match. |
| Alex Mercer | 1 | November 15, 2012 | |
List of individual reigns
[
]
As of March 30, 2013
| | | | |
| --- | --- | --- | --- |
| Wrestler | Days Held | Date Won | Date Lost |
| Alex Mercer | 157+ | November 15, 2012 | Current champion |
| "Badass" Bart Simpson | 143 | June 9, 2011 | October 30, 2011 |
| Reaper X | 90 | August 17, 2012 | November 15, 2012 |
| Spiderman | 85 | May 24, 2012 | August 17, 2012 |
| Guile | 68 | March 17, 2012 | May 24, 2012 |
| Kurtis Stryker | 42 | December 31, 2011 | February 11, 2012 |
| Vega | 35 | February 11, 2012 | March 17, 2012 |
| CM Punk | 28 | October 30, 2011 | November 27, 2011 |
| Walter Scott | 19 | May 21, 2011 | June 9, 2011 |
| TGO (The Great One) | <1 | November 27, 2011 | November 27, 2011 |
| Max Payne | <1 | November 27, 2011 | November 27, 2011 |