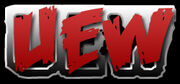 Ultimate E-Fed Wrestling is an e-fed created by Forumzone user Jamo that appears on the E-Fed forums. UEW is a completely revamped version of Jamo's former league WCCW. There is two shows a week of UEW, Adrenaline and Aftershock.
How UEW got it's start:
[
]
Jamo was inspired to do his own e-fed after reading UCA and FZW. He originally wanted to do a CAW federation but changed to e-fed format and stayed with it. He originally started WCCW but got bored writing it out, he even co-wrote New-TNA for awhile writing Xplosion. Since he failed to restart WCCW twice he decided to completely revamp it and that is how UEW came along.
Roster:
[
]
| Name: | Finishers: | Championship History: | Notes: |
| --- | --- | --- | --- |
| Albert Wesker | Fallen God Slam, Lost in Nightmares | 1x Interactive Champion | |
| Andy Lee | Andy-canrana | | |
| Arsenal | Archers Paradox, Longbow | | |
| Ben Tennyson | Omnitrix, DX Mark 10 | | |
| Bluntman | Blunt Elbow Drop, The Joint | 1x UEW Tag Team Champion (w/ Chronic) (current) | |
| Castiel | Angel's Wings | | |
| Chrom | Mark of Exalt | 1x Interactive Champion | |
| Chronic | Chronic Cutter, Snoogins | 1x UEW Tag Team Champion (w/ Bluntman) (current) | |
| Cole McGrath | The Ray Sphere | 2x UEW Champion (current) | |
| Daffyd Thomas | The Only Gay | | |
| Dick Tracy | Hammer of Justice, Figure 4 Leg Lock | | |
| Freddy Krueger | Nightmare on Elm Street | | |
| Gene Simmons | Love Gun | | |
| Ghostface | Taunting Call, Final Stab | | |
| Hamish Blake | Blake Kick | | |
| The Hulk | The Gamma Ray, Big Green Buster | 1x Tag Team Champion (w/ Thor) | First Tag Team Champion |
| Jack Conrad | Condemened | 1x Interactive Champion | First Interactive Champion |
| Jason Statham | Pedigree | | |
| Mr. Freeze | Freeze Over | | |
| Riddick | Pitch Black | | |
| Shrek | Swamp Drop | | |
| Sora | Keyblade, Dream Drop Distance | | |
| Spider-Man | Five Star Spider Splash | | |
| Squall Leonhart | Gunblade | | |
| Steve Stifler | Stifmeister Driver, Stifler Screwdriver | | |
| Sylvester Stallone | WMD Punch | | |
| Tarzan | Call of the Wild | | |
| Thor | Thunder Driver, Son of Odin | 1x Tag Team Champion (w/ The Hulk) | First Tag Team Champion |
| Zod | Kneel Before Zod, Kryptonian Leg Drop | 1x UEW Champion | First UEW Champion |
Vixens:
[
]
| Name: | Finishers: | Championship History: | Notes: |
| --- | --- | --- | --- |
| Alexis Texas | Asstastic, Creampie | | |
| Black Cat | Black Out | | |
| Jenna Haze | Haze Daze | | |
| Katniss Everdeen | Hunger Games, District 12 | 1x Vixens Champion | First Vixens Champion |
| Maria Hill | SHIELD-sault | | |
| Paris Hilton | Hilton Lock | | |
| Shyla Stylez | Stylez Smash | | |
| Sidney Prescott | Woodsboro Kick | | |
| Supergirl | S5, Kryptonian Death Lock | | |
| Tori Black | Cream Dream, Pretty Filthy | 1x Vixens Champion (current) | |
Tag Teams:
[
]
Name:
Members:
Tag Finisher:
Championship History:
Notes:
Bluntman & Chronic

Bluntman

Chronic

Blunt Chronic Cutter (3D)
1x Tag Team Champions
Hamish & Andy

Hamish Blake

Andy Lee

Golden Duo (Spin Cycle)
The Avengers

Thor

The Hulk

Avengers Assembled (Aided Powerbomb)
1x Tag Team Champions
First Tag Team Champions
The Expendables

Sylverster Stallone

Jason Statham

High-Low (Lariat/Chop Block)
Other On-Air Talent:
[
]
Authority Figures:
[
]
| Name: | Position: | Held from: |
| --- | --- | --- |
| Johnny Friendly | UEW Chairman | 11/16/12 |
Commentators:
[
]
| Name: | Position: |
| --- | --- |
| John 'Bradshaw' Layfield | Color Commentator for Adrenaline and Aftershock |
| Russell Hantz | Play-By-Play Commentator for Adrenaline and Aftershock |
Interviewers:
[
]
| Name: | Interviews-Superstars/Vixen: |
| --- | --- |
| Rove McManus | Vixens |
| Sue Sylvester | Superstars |
Ring Announcer:
[
]
| Name: | Shows: |
| --- | --- |
| Howard Finkel | Weekly Shows/RPVs |
Champions
[
]
Mega Events
[
]
New Year's Revenge
St. Valentine's Day Massacre
March Madnes
Spring Turmoil
Ultimate Revelation
Day of Reckoning
Golden Opportunity
Heatwave
Royal Jackpot
Pick Your Poison