WCL Regional Championship
Details
Current
champion(s)
Katniss Everdeen
Date won
April 3, 2013
Promotion
World Championship League

Statistics
First champion(s)
Dwight Schrute
Longest reign
Tony Montana (161 days)
Shortest reign
Dwight Schrute (8 days)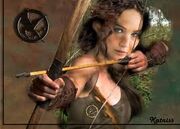 The WCL Regional Championship is the secondary title in the World Championship League fantasy wrestling promotion. The first champion was determined in a fatal four way match. The first champion wad Dwight Schrute who defeated El Fuerte, Jay Lethal, and Alonzo Harris in a Fatal Four Way on June 25, 2012 at Genesis. The current champion is Katniss Everdeen, who defeated Tony Montana in a open challenge on WCL Broadcast Episode 25.
Title History
[
]
| | | | |
| --- | --- | --- | --- |
| Wrestler: | Time: | Date: | Notes: |
| Dwight Schrute | 1 | June 25, 2012 | Schrute won the title in a Fatal Four Way Match by pinning Alonzo Harris. El Fuerte and Jay Lethal was also in the match. |
| Alan Wake | 1 | July 3, 2012 | |
| Tony Montana | 1 | October 24, 2012 | |
| Katniss Everdeen | 1 | April 3, 2013 | Everdeen won the title in a open challenge. |
List of individual reigns
[
]
As of February 20, 2013
| | | | |
| --- | --- | --- | --- |
| Wrestler | Days Held | Date Won | Date Lost |
| Tony Montana | 161 | October 24, 2012 | April 3, 2013 |
| Alan Wake | 113 | July 3, 2012 | October 24, 2012 |
| Dwight Schrute | 8 | June 25, 2012 | July 3, 2012 |
| Katniss Everdeen | 1+ | April 3, 2013 | Current champion |