WCL Starlets Championship
Details
Current
champion(s)
Claire Redfield
Date won
April 3, 2013
Promotion
World Championship League

Statistics
First champion(s)
Bar Refaeli
Most reigns
Claire Redfield (2 reigns)
Longest reign
Katniss Everdeen (124 days)
Shortest reign
Princess Jasmine (<1 day)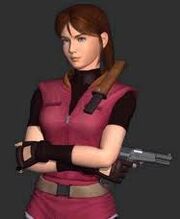 The WCL is the top women's championship in the World Championship League fantasy wrestling promotion. The first champion was determined in a 6 starlet battle royal. Bar Refaeli became the first champion in a 6 Starlets Over The Top Rope Battle Royal Match by last eliminating Teddy Duncan on June 19, 2012 at WCL Broadcast Episode 1. The current champion is Claire Redfield, who defeated Taokaka on WCL Broadcast Episode 25.
Title History
[
]
| | | | |
| --- | --- | --- | --- |
| Wrestler: | Time: | Date: | Notes: |
| Bar Refaeli | 1 | June 19, 2012 | Refaeli won the title in a 6 Starlets Over The Top Rope Battle Royal by last eliminating Teddy Duncan. The other participants of the match were Katniss Everdeen, Taokaka, O-Ren Ishii and Nina Williams. |
| Katniss Everdeen | 1 | June 22, 2012 | Everdeen won the title in a open challenge. |
| Claire Redfield | 1 | October 24, 2012 | Redfield won the title in a Triple Threat Match by pinning Katniss. Jade was also in the match. |
| Princess Jasmine | 1 | December 5, 2012 | |
| Vacated | | December 5, 2012 | The title became vacated after Princess Jasmine assaulting the referee after the match. |
| Taokaka | 1 | December 22, 2012 | |
| Claire Redfield | 2 | April 3, 2013 | |
List of individual reigns
[
]
As of March 30, 2013
| | | | |
| --- | --- | --- | --- |
| Wrestler | Days Held | Date Won | Date Lost |
| Katniss Everdeen | 124 | June 22, 2012 | October 24, 2012 |
| Taokaka | 102 | December 22, 2012 | April 3, 2013 |
| Claire Redfield | 42 | October 24, 2012 | December 5, 2012 |
| Bar Refaeli | 3 | June 19, 2012 | June 22, 2012 |
| Claire Redfield | 1+ | April 3, 2013 | Current champion |
| Princess Jasmine | <1 | December 5, 2012 | December 5, 2012 |
List of combined reigns
[
]
As of March 30, 2013
| | | | |
| --- | --- | --- | --- |
| Ranked | Wrestler | # Of Reigns | Days Combined |
| 1. | Katniss Everdeen | 1 | 124 |
| 2. | Taokaka | 1 | 102 |
| 3. | Claire Redfield | 2 | 43 |
| 4. | Bar Refaeli | 1 | 3 |
| 5. | Princess Jasmine | 1 | <1 |